introducing: MIXTAPES
new playlists in your inbox every Wednesday! to inspire you to move those emotions into motion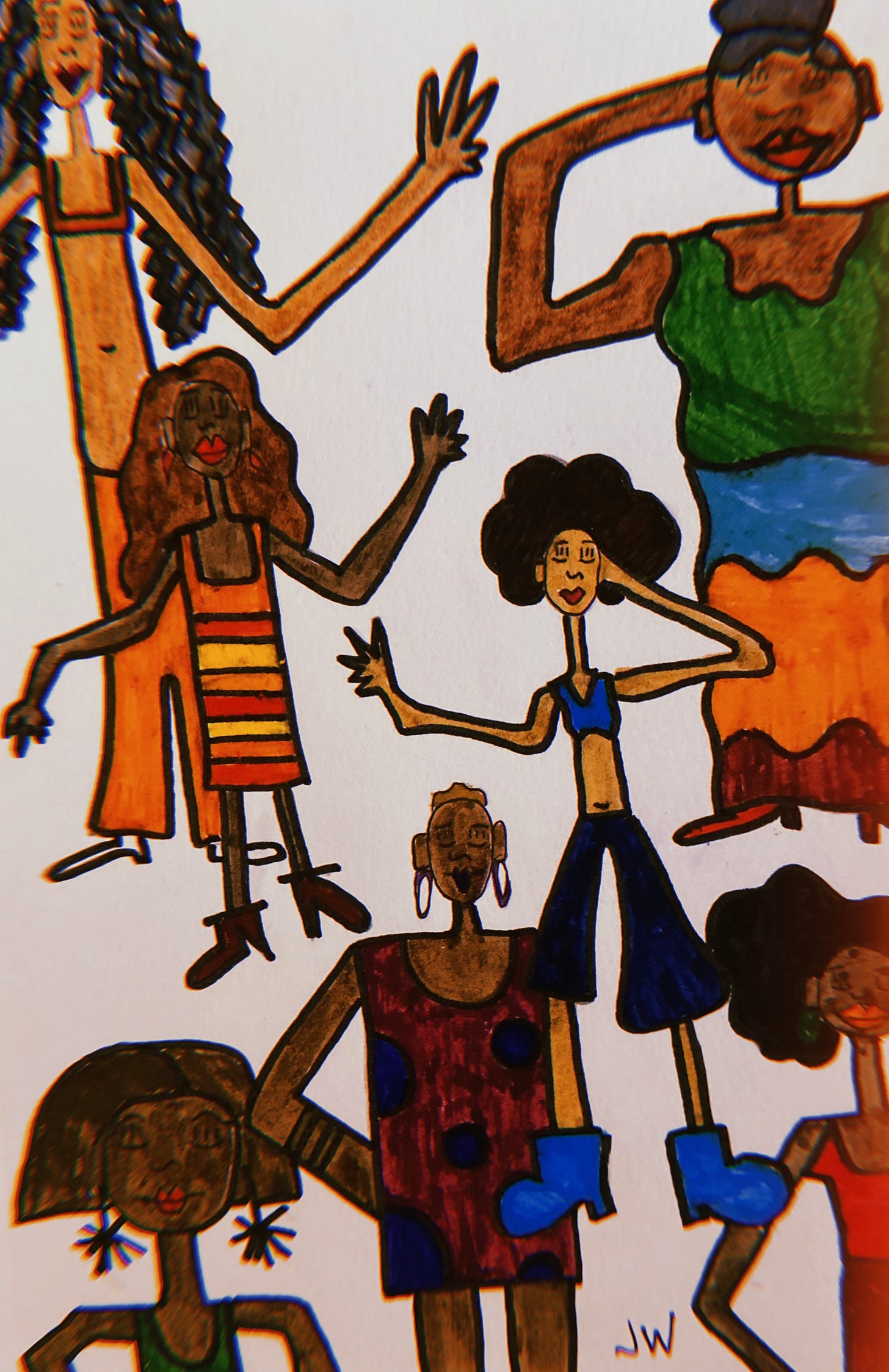 drawing by yours truly <3
hellooooooooo,
There is a LOT going on these days.
Kamala Harris is the democratic VP nom and she's serving up some BIG auntie/professor that does not grant you that extension/stop being fresh energy and whatever feelings are coming up for you about this: I hope you honor them, process them, then place them in a box on election day so we can get Trump OUT.
Like many people, I turn to music when I need to:get out of my head; feel inspired; cheer up; have a good cry; jump up and down; shimmy; unsuccessfully twerk; find some point of existence.
So I've decided to curate special playlists for you all — my trusted newsletter community, with the intention of one day listening to these songs together in-person. Each playlist I send will be dedicated to an idea or movement I want to share with you.
This week, the playlist theme is: THANK BLACK WOMEN (below)
August 18th marks the 100th anniversary of the ratification of the 19th Amendment — a celebrated milestone in the United States' story of suffrage and of equal rights for women. But thanks to ol' predictable systemic racism upon which the stolen soil of our country sowed, Black women were barred from voting well into the 20th century. And today, Black women still face massive racist and sexist barriers, preventing them from having their voices genuinely heard.
The words of Angela Davis in her essay Working Women, Black Women and the History of the Suffrage Movement ring as true today as they did when she first wrote them in 1983:
Black women had been more than willing to contribute to the 'clear powers of observation and judgment' toward the creation of a multiracial movement for women's political rights. But at every turn, they were betrayed, spurned and rejected by the leaders of the lily-white suffrage movement. For suffragists and clubwomen alike, Black women were simply expendable entities when it came time to woo Southern support with a white complexion. As for the woman suffrage campaign, it appears that all those concessions to Southern women made very little difference in the end. When the votes on the Nineteenth Amendment were tallied, the Southern states were still lined up in the opposition camp—and, in fact, almost managed to defeat the amendment.
After the long-awaited victory of woman suffrage, Black women in the South were violently prevented from exercising their newly acquired right. The eruption of the Ku Klux Klan violence in Places like Orange County, Florida, brought injury and death to Black women and their children. In other places, they were more peacefully prohibited from exercising their new right. In Americus, Georgia, for instance, more than 250 colored women went to the polls to vote but were turned down or their ballots refused to be taken by the election manager.

In the ranks of the movement which had so fervently fourth for the enfranchisement of women, there was hardly a cry of protest to be heard.
This time, let your cries be heard. History will repeat itself, if we let it. Thank Black women. Hold them accountable. Hold yourself accountable. Turn that emotion into motion and VOTE!!!!!!!!!
love,
Jesse