MIXTAPE - volume 3
it's a funky world out there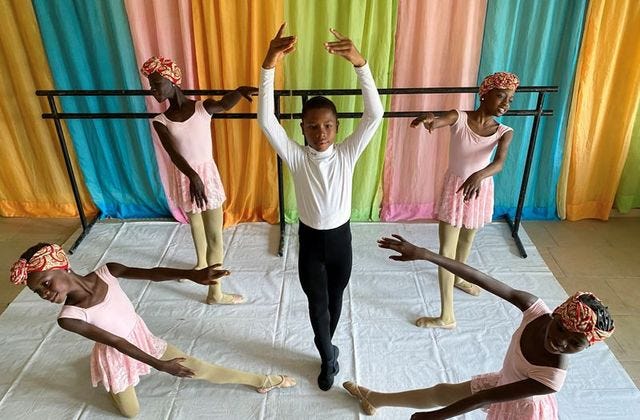 ballet school in Lagos, Nigeria. vogue.com.
Hey Folks!
It's Sam here, aka DJ Only Child, aka DJ SK Dubs, aka Buddha's Dad, aka Jesse's Husband. I'm thrilled to be here to present you with this week's All Mixt Up Mixtape!
Let's be honest--this has been a really difficult time. In the face of a global pandemic and the worst social unrest of our generation, we've mostly been sequestered to our homes and our worlds have become much smaller than they used to be. On top of all that, our access to music and dancing has been cramped to small speakers, living rooms, and company that we're too familiar with to let our wildest dance moves run free (just me?). I'm really missing loud music and dancing, and I bet you are too. 
When Jesse asked me to contribute a Mixtape for All Mixt Up, I thought for a while about what to center my playlist on. For those of you who don't know me, let's just say I have a pretty eclectic (err, erratic?) taste in music--I can go from early 2000's Ludacris to some Allman Brothers to Swedish House Mafia, take a detour to a 4 hour 1968 Grateful Dead set, and then come back for a quick verse from Big L all in one car ride. For real, just ask Jesse. So, where to focus my Mixtape? 
Well, to answer that question I thought about what we're all missing most in these times. While there's no way to truly fill the void, one thing I thought about was to try to inject some tunes from a variety of cultures to get us moving and feeling the vibes from other cultures, countries, and generations. What I ended up with was a playlist that spanned artists from 17 different countries, 6 decades, and a multitude of genres. But they all have one thing in common--they all make me move my feet and smile a little bit more. 
It's a funky world out there--let's let these diverse sound waves move us to the beat of life and guide us through these trying times.
Peace & love,
Sam
**PS from Jesse: This guest mixtape is the only newsletter post for this week. Things are feeling really heavy in the world and I need to refill my cup before I can adequately pour for others. I love you. I am with you. Be gentle. Be safe. Be easy.